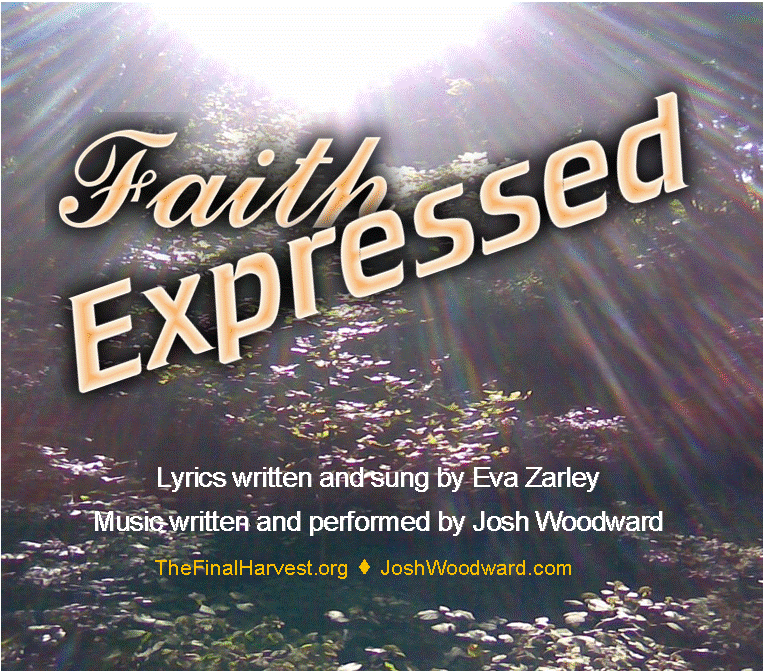 Clicking the album title or the album cover graphic will take you to Soundcloud where you may listen and/or download each track for free Words by Eva Zarley, Music by Josh Woodward Josh Woodward's music is used by permission as he has
licensed it through Creative Commons (attribution).
Eva says, "The Holy Spirit has been nudging me to do this project for years. Faith Expressed consists of 12 meditations that are intended to take you through various expressions of faith that make up the Christian experience. It includes speaking in tongues. I urge you to take the time to sit down in a state of prayerfulness and listen to the whole album, start to finish. I believe the Lord will bring about healing and deliverance to those who meditate through the entire recording. God richly bless you as you listen."

The songs are:
Repentance ("Gravity"*)
Salvation ("Go")
Baptism ("Symmetry and the Pocket of Angels")
Sanctification ("The Spirit World")
Forgiveness ("Bloom")
Transformation ("Untitled")
Suffering ("Private Hurricane")
Deliverance ("This Is Everything")
Healing ("Don't Close Your Eyes")
Praise and Thanksgiving ("Cherubs")
Worship ("Hollow Grove")
Tarry ("Amaranthine You Fly")
*These are the instrumentals of Josh Woodward that Eva used for her songs.
Free downloads of Josh Woodward's music are at http://joshwoodward.com.