Blacksmithing
by Eva Zarley
"Even to your old age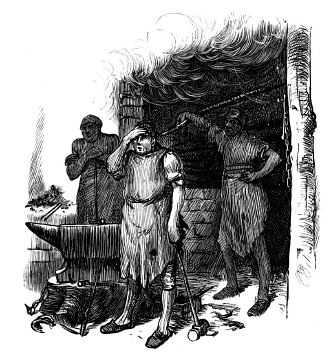 and gray hairs I am He. I am He who will sustain you. I have made you and I will carry you. I will sustain you and I will rescue you." Isaiah 46:4
As part of his re-enactment passion, my son, Nathan, has taken up the art of blacksmithing. His interest actually started quite early. He attempted to build his first forge at the age of thirteen. Using stone and a small set of fireplace billows, he could only get the coals hot enough to make some crude swords. Over the years, he has improved his makeshift forge and increased his abilities. Nevertheless, he has had considerable limitations in what he could accomplish.
Among his re-enactment buddies, is a skilled blacksmith. This man has restored several antique, portable forges and one day "loaned" one of them to Nathan, for an indefinite period of time. My son at last, had the mechanical tools he needed, to learn this marvelous trade that has fascinated him for years. Not only that, this dear man offered an even greater gift to my son, his time and knowledge. He began teaching Nathan, inviting him to his home in the evenings, to impart the techniques he had mastered.
I was impressed enough with the generosity of the forge. However, I was even more overwhelmed with the free apprentice sessions. This man, willing to give his precious time and valuable wisdom, free of charge, is held in high esteem, in my heart. I am so grateful that he has taken my son under his wing, granting him the opportunity to learn this fine craft. Nathan is of course, delighted, not only with learning the art, but even more with finding a lifelong friend. For this initial friendship has continued for several years. This man and his wife continue to love my son and also my beloved daughter-in-law.
I would love to see this sort of interaction between the older and younger men of all the churches. Young men are so in need of Godly mentoring. I am not speaking of just spiritual mentoring in an obvious way, but a friendship and possibly sharing one's skill and knowledge of a trade, while sharing the things of God in the process. Our time is so precious. It is indeed a great gift.
One day, early in his blacksmithing apprenticeship, I sat attentively and watched Nathan work the metal. He stuck it deep into the burning chunks of coal and cranked the bellows until the coal flared up in brilliant flames. The metal bar glowed bright orange from the intense heat. Nathan pulled it from the heat, explaining the metal needed to be hot enough to be pliable but that he didn't want to melt it. Swinging around to his anvil, he shaped the metal bar with careful and strategic blows from his hammer. I watched in admiration as he made mental calculations, as to the amount of heat and the points of impact, to form the metal to the shape he desired.
"How much it is like God working us!" I mused, as I watched Nathan, shaping his creations. He would heat the metal, rough out the basic shape, inspect his work and heat it again to focus on the details. When he was satisfied that it was finished, he would cool it in water. I marveled as a simple length of metal rod was converted into a thing of beauty and usefulness. It had no resemblance to the plain bar it once had been. Left behind in the bed of coals was a misshapen pile of sledge. It is the impurities of the metal, melted off in the heat.
How much like that metal are we! Doesn't God have to turn up the heat to mold us? It is in the midst of the fire that we become most pliable and submissive to His careful shaping. He works on us with knowing skill, as He transforms each of us into children of beauty and usefulness. Our impurities are burned off in the flames of His forge. When God is finished with us, we have no resemblance to what we had once been.
I can't say that I enjoy the heat, but I love what God is doing with me, and so I praise Him for the fire. I became a born-again Christian in 1980. In the span of over twenty years, I have endured many hardships that I was beginning to think had done more harm than good. My trials appeared to have left me cold and hard, like a piece of metal. I wondered if there could be any more shaping done. I wondered if I had cooled down for good. Lately God has been heating me up again, melting my heart. It hasn't been so much an intense, fiery ordeal like those of my past, as it has been simply the fire of revealing the condition of my heart to me. It has been the fire of getting completely honest with one's self, before God. I look hopefully, to the Lord to shape and mold my heart, now made pliable by the heat of His examination. In joyful expectation, I await His finished product, a woman of God who is once again beautiful and useful to Christ.
Thank you, Lord for working and reworking us, fitting us for Your service and pleasure.


---

Home
Books
About TheFinalHarvest.org
Music
Pass-around Pages
Kristina's Page
FAQ
Transforming Books
Transforming Movies
Eva's Desktop Art
Victor's Desktop Photos
Audio Talks
Printed Talks
Statement of Faith
Our Testimonies
Home Church Resources
Our Blog and Podcast
Devotionals
Links
Contact Us